The Sebastopol Grange is a Community organization that came to Sebastopol in 1898. Our Meetings are the Last Tuesday of each month, and start with a potluck st 6:30pm. 
Historically, rising from the fields and farmlands, we gathered on common ground to heal and support each other, work together, and sustain local farms and a locally resilient economy and community. We continue that tradition today, although few of us a farmers.
Grange halls are often the center of their community,
providing opportunities,

culture and education,

entertainment,

emergency shelter, and

a meeting place where new friends are made and old friends are cherished.
That is the mission of the Sebastopol Hall today.
We built our Sebastopol Hall in 1946, through the labor and donations of the local farm community. You may pass it every day as you drive between Sebastopol and Santa Rosa.
We have a plan to revitalize the Hall and its grounds. We invite family, friends and neighbors to share the harvest from the fields and celebrate the bounty of life with us as we refurbish. For more than 100 years, we've preserved our founding principles of unity, liberty and charity here in Sebastopol.
Everyone is welcome to apply for membership in the Grange. Each member contributes at their own pace and level of participation. Each Grange decides how to best serve the community.
The benefits of membership are many:
* Personal fulfillment from making a difference in your community.
* Fun, family-friendly experiences where young and old alike share.
* Discounts on products and services.
* The comfort of knowing that as a Grange member, you are never alone.
The Grange supports and advocates for healthy communities, family farms, local economies, cultural diversity, public schools and education, the arts, and a variety of charitable causes.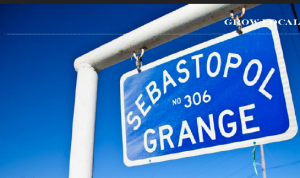 The Grange has lobbyists in Sacramento and Washington D.C. and boasts a long history of successful legislative advocacy. Important issues discussed and decided at the community Grange level may become State or National Grange policy, and even legislation.
The Grange is family-friendly and has special programs for juniors, youth, young adults and women.
The Grange was the first national organization to support and promote women as equal voting members. The Grange is non-partisan and non-denominational.
Our Meetings are the Last Tuesday of each Month at 6:30, come visit us!
Also see us on Facebook.